Canada: Radio station burns cash and provokes outrage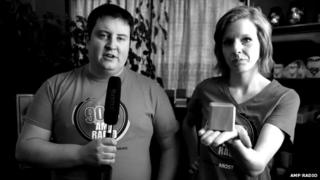 There is outrage in Canada after a radio station burnt 5,000 Canadian dollars ($4,472, £2,710) in cash as part of a contest for listeners, it seems.
AMP Radio in Calgary dubbed the contest the "ultimate social experiment", CBC News reports. But it has received complaints from people saying the money should have gone to a good cause.
"You decide whether to vote #BANK and maybe win the money," the station's Facebook page says, "Or vote #BURN to see the money go up in flames." It explains the burn option, saying: "If you aren't guaranteed to win, why should anyone else?"
AMP Radio says 54% of people voted to burn the money - which it proceeded to do, posting a video of the process online.
Many people listed good causes that could have used the money. "There are women and children in women's shelters that are fleeing domestic violence... and people want to joke about burning $5,000. Shame on you!" one listener says.
Another argues: "Good marketing tactics, but ethically it's a real shame." When one listener said she "hated" the station, AMP Radio responded: "Well... buh bye then I guess?" It is now holding another contest, which invites listeners to choose whether a further 10,000 Canadian dollars should be banked or burnt.
Use #NewsfromElsewhere to stay up-to-date with our reports via Twitter.