Altered Images: Algerian leader mocked as N Korea 'wannabe'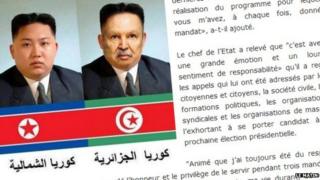 A doctored image comparing Algeria's long-time president with the North Korean ruler has appeared in the press after the president said he would run for office again.
President Abdelaziz Bouteflika was photoshopped to look like Kim Jong-un - complete with his suit and distinctive hairstyle - in a picture by private newspaper Le Matin. The picture appeared beside a letter from the president, in which he says serving Algeria is his "sole reason for being" and he "decided not to disappoint" those citizens who have been calling on him to stay at the helm.
Bouteflika, 77, has been in power since 1999, securing landslide election victories in 2004 and 2009. But in 2013 the president suffered a stroke and spent four months in Paris, and has rarely appeared in public since then.
The government announced he will be standing for a fourth term in elections in April 2014. Opposition figures point to his fragile health and say Bouteflika cannot lead Algeria for another five years.
Kim Jong-un has been running North Korea since December 2011, and his late father, Kim Jong-il, was in charge for 17 years before that. His grandfather, Kim Il-sung, is seen as North Korea's "eternal president" even though he died in 1994.
Use #NewsfromElsewhere to stay up-to-date with our reports via Twitter.