Ukraine: Campaign for Donetsk 'to join UK'
By News from Elsewhere...
...as found by BBC Monitoring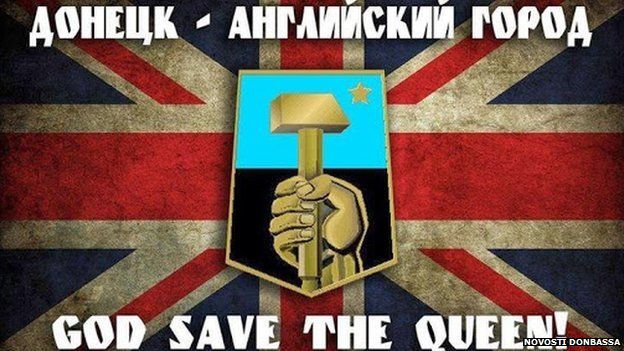 Some residents in the Ukrainian city of Donetsk have launched a tongue-in-cheek campaign to join the UK, because the city was founded by an industrialist from Wales, it appears.
"Donetsk residents! English brothers! The decisive moment has come!" says the online appeal (which makes no distinction between England and Wales), according to Novosti Donbassa website. The campaign appears to parody Crimea's recent referendum on joining Russia, which has resonated across eastern Ukraine.
The heavily industrialised city was established in the late 19th Century as a foundry run by John Hughes, a native of Wales. Locals called him John Yuz, so the town was initially named Yuzovka.
"We demand a referendum on returning Yuzovka to its historical fold as part of the UK! Glory to John Hughes and his city! God save the Queen!" the campaign adds.
Ukraine's fifth-largest city is a hotbed of pro-Moscow sentiment in Ukraine and the home of ousted President Viktor Yanukovych - who has now fled to Russia.
Donetsk has seen violent clashes over Ukraine's ties with Russia, in which at least one person has died. Kiev claims pro-Moscow rallies in eastern Ukraine involve "provocateurs" from Russia and even members of Russian secret services.
Use #NewsfromElsewhere to stay up-to-date with our reports via Twitter.