Saudi Arabia: 'Destitute' woman leaves secret fortune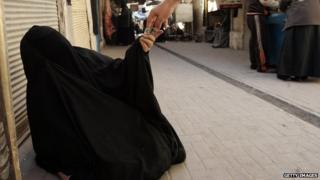 A 100-year-old woman who spent decades begging in the streets of Jeddah has died, leaving behind a secret fortune of gold coins, jewels and a real estate portfolio, it appears.
The woman, known as Eisha, amassed a fortune worth 3m riyals ($800,000, £480,000) which includes four buildings, the Saudi Gazette reports. The revelation came as a shock to many of her neighbours but a childhood friend, Ahmed Al-Saeedi, says he helped look after her valuables. The money has now been handed over to authorities.
Several families live in Eisha's properties, but they say the old woman never charged them rent. It is not clear if they will now be evicted.
According to Saeedi, much of Eisha's wealth was amassed when she was begging with her mother and sister, both of whom have died. "They used to get a lot of sympathy and assistance from philanthropists throughout the year, especially during Eid," he explains.
Saeedi adds that he tried to convince his friend to stop begging more than once. "I asked her to give up this profession as she possessed a huge amount of wealth, but she always refused and said she was preparing for hard times."
Use #NewsfromElsewhere to stay up-to-date with our reports via Twitter.