New Zealand: German tourists camp in earthquake house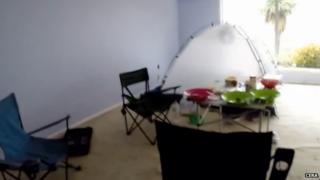 Three German tourists have been caught camping in a house that had to be abandoned after the devastating Christchurch earthquakes, it's been reported.
They set up a tent in the living room and were cooking on a barbecue, TV3 News reports. The squatters had been using one of the bedrooms as a toilet, posing a health risk to agency staff, the Canterbury Earthquake Recovery Authority (CERA) says.
"It is just disgusting behaviour and not something we would want other tourists to think was acceptable anywhere in New Zealand," CERA chief executive Rodger Sutton says. TV New Zealand reports the trio were given a warning and told to clean up their mess.
The earthquakes of 2010 and 2011 left around 3,000 so-called red zone properties - buildings deemed too dangerous to live in - in the Christchurch region. They are all now under the ownership of the Crown.
CERA says squatting and trespassing has become an occasional problem in the red zone, and motion-sensitive cameras have been put in to detect intruders. Almost all condemned properties are scheduled to be demolished by the end of the year, TV3 says.
Use #NewsfromElsewhere to stay up-to-date with our reports via Twitter.