Italy: Doorbell 'set off deadly Mafia bomb'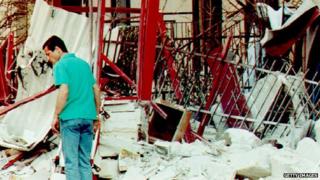 A car-bomb detonated from a doorbell is reportedly the cause of one of Italy's most high-profile, unsolved Mafia killings.
Taped prison conversations between two Mafia bosses - Salvatore "Toto" Riina of the Sicilian Cosa Nostra clan and Alberto Lorusso of Puglia's Sacra Corona Unita - suggest the blast that killed prosecutor Paolo Borsellino in 1992 was triggered from an intercom outside his mother's flat, the Gazzetta del Sud newspaper reports.
Twenty-two years later, it is still unclear who planted the device. One informer testified that he saw a man near the car the day before the July 1992 killing, but police believe the explosives were set off by remote control, the Palermo edition of La Repubblica newspaper says.
"Mystery of mysteries," the paper says, "Too much time has passed, and it's impossible to say what was inside the intercom."
Riina was jailed in 1993 for over 100 counts of murder, including the deaths of Borsellino and his five police bodyguards.
The killings of Borsellino and fellow magistrate Giovanni Falcone are seen as a turning point in Italy's battle against the Mafia. Palermo's international airport in Sicily is named Falcone-Borsellino Airport in honour of the two slain prosecutors.
Use #NewsfromElsewhere to stay up-to-date with our reports via Twitter.