Slovakia: Donkey and potatoes sent to PM in campaign stunt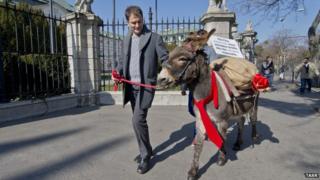 A donkey carrying a sack of potatoes has been sent to the prime minister of Slovakia by an opposition leader, in what appears to be a pre-election stunt.
Igor Matovic, the leader of the Ordinary People party, brought the donkey and vegetables to a government office just days before the country's 15 March presidential elections, in which Prime Minister Robert Fico is a candidate, Slovak TASR news agency reports.
The stunt appears to be a response to an earlier statement by Fico that even a sack of potatoes could have beaten far-right candidate Marian Kotleba in last years' regional elections. In fact, Fico's preferred candidate lost out to Kotleba in a shock defeat.
Apart from its load of potatoes, the donkey - called Tapo - also wore a red tie, the colour of Fico's Direction-Social Democracy party. Suggesting the prime minister was having recurring nightmares after his potato quip caught up with him, Matovic said he hoped Fico could now sleep soundly at night.
Use #NewsfromElsewhere to stay up-to-date with our reports via Twitter.