Russia: Tabloid drops daily topless photo to cover Ukraine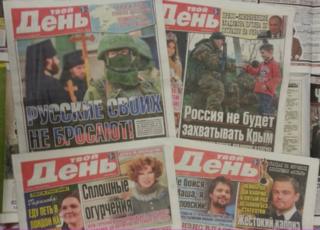 A Russian newspaper that models itself on the British tabloid The Sun has dropped its daily "page three" photo of a topless model to cover the Ukraine crisis, it seems.
Readers say the regular photo inside the front cover has not appeared in the Tvoy Den (Your Day) newspaper since late February, after events in Ukraine led to pro-Russian troops moving in to parts of the Crimea region. The British newspaper has also been known to use its "page three" for news coverage in times of national crisis.
Tvoy Den, which is not linked to The Sun, is owned by pro-Putin businessman Aram Gabrelyanov's News Media group, and shies from criticising the country's leadership and policies.
Its coverage of Russia's position in Ukraine has been unequivocally pro-Kremlin, with front-page headlines ranging from "Russians do not abandon their own! Putin says he will protect compatriots in brotherly country", to "Russia, protect us! Residents of Simferopol hoist Russian flag on Supreme Council building".
Use #NewsfromElsewhere to stay up-to-date with our reports via Twitter.