Nigeria: Local languages fight for survival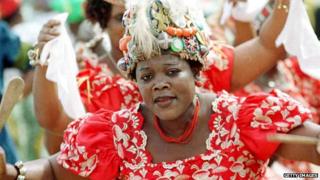 Dozens of local languages in Nigeria are under threat because of neglect and outside influences, it's been reported.
Of Nigeria's 529 official languages, 62 are "in trouble" or "dying", the Lagos-based Guardian newspaper reports. Up to 200 Nigerian languages may be at risk in the future, the paper says.
Nigeria is one of the most linguistically diverse countries on earth, says Kole Omotoso, a professor at Adekunle Ajasin University. But many children don't learn their mother-tongues, so languages need to be protected and more widely taught in order to survive. "Nigerian languages remain very poorly researched compared with indigenous languages in Europe, the Americas and Australias," he adds.
Nigeria is dominated by three major languages: Hausa, Igbo and Yoruba, with English also used to maintain the country's unity amid a diverse cultural mix. Linguistics expert Samuel Aje notes that language also "defines the customs and traditions of the people... and its neglect has contributed to the struggle being faced by many African countries."
Officials have proposed caps on international TV and radio programmes, saying unlimited foreign coverage would "take its toll on our local languages, where people will no more be proud of what is Nigerian," the head of one national cultural group told the paper.
Endangered minority languages are not just a Nigerian problem. Unesco says half the world's 6,000 languages could disappear by the end of the century unless steps are taken to preserve and encourage their use.
Use #NewsfromElsewhere to stay up-to-date with our reports via Twitter.