China: Stray cats keep Beijing's Forbidden City clean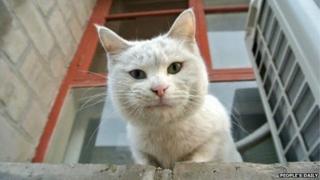 Officials at Beijing's Forbidden City have a policy of keeping about 200 cats at the imperial palace complex to keep rats and vermin away from the cultural relics, it's been reported.
While stray cats are an annoyance for residents in the rest of capital, the museum curators have neutered over 180 felines in the last five years, state-owned Xinhua news agency reports. Some of them might even be descendants of royal pets, says museum official Ma Guoqing.
"They are a powerful deterrent to museum rats and we have not found a single piece of cultural relics damaged by cat claws," Ma says. The museum vaccinates the cats, gives them vitamins, and lets them stay inside in cold weather, the People's Daily newspaper reports.
But Ma adds the cats could "pose a threat to visitors, and their excrement is definitely an eyesore". There are about 200,000 stray cats in Beijing, one survey suggests. One female cat giving birth to three or four litters every year could add as many as 100 cats to the stray population in its lifetime, Xinhua reports.
Use #NewsfromElsewhere to stay up-to-date with our reports via Twitter.