Chile: Costumed wrestlers inspired by cult 70s TV show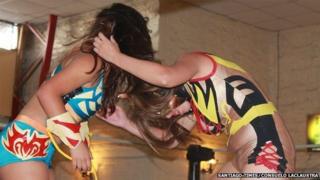 Costumed men and women battle it out in Santiago, Chile, where an underground wrestling scene has sprung up, inspired by a cult 1970s TV show, it appears.
Wearing extravagant costumes, a league of 20 wrestlers - including six women - re-enact scenes from the show Titanes en el Ring, The Santiago Times reports. Over the course of three hours the wrestlers fight, sometimes in mixed matches, until there are three champions, the newspaper says.
The original Argentine programme was hugely popular, spawning spin-off shows across the region. In Chile, viewers followed heroes like Mr Chile as he wrestled adversaries such as La Momia in the ring.
Titanes en el Ring ended its run in 1973 but was resurrected in a new form in 2010, when dedicated fans who loved the show as children launched a wrestling league based on it - known as the Xplosion Nacional de Lucha Libre.
Use #NewsfromElsewhere to stay up-to-date with our reports via Twitter.