Jerusalem: Dog DNA tests part of street mess crackdown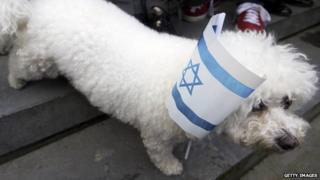 Authorities in Jerusalem will begin DNA testing the city's dogs to track down owners who don't clean up their pet's mess, it's been reported.
In a city with an estimated 11,000 dogs, fouling in public spaces is already an offence - and health risk - and authorities say forensic testing of dog poo will help them enforce the rules. The goal is "not to increase fines for dog owners, but to reduce the dog droppings hazard," the Jerusalem Post reports.
Jerusalem joins a handful of other municipalities willing to spend public money tracking down errant dog owners. In 2011, a Tel Aviv suburb claimed they would be the first to pass a dog DNA-testing law, saying they would collect samples when animals were brought in for their annual rabies inoculation.
But it's not cheap. The Chicago Tribune reports that a test kit and lab time can cost up to $100 (£60) per test.
Use #NewsfromElsewhere to stay up-to-date with our reports via Twitter.