Kenya: Africa's first donkey abattoir feeds Chinese meat demand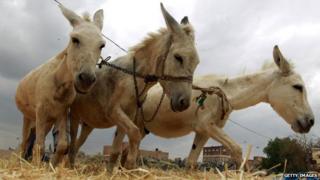 Africa's first donkey slaughterhouse has been approved in Kenya, to meet the exploding demand for meat in China, it seems.
China has "a high demand and market for donkey meat, and this slaughterhouse will take care of that," owner John Ngonjo Kariuki told the Kenya Standard.
Residents of Naivasha, where the abattoir is slated to be built, hope a licensed slaughterhouse might also address the problem of donkey carcasses littering the roadside - left behind by illegal traders who have been killing the donkeys outside. "The slaughter of donkeys has been legalised by the government for some years, but some unscrupulous traders have decided to use the bushes," Kariuki says.
But the town's water traders are less enthused. One says his business uses donkeys for deliveries, and, "We fear that the same people who have been slaughtering our donkeys could turn to stealing them, as there is a ready market."
China is experiencing dramatic changes in its food consumption as people become wealthier and move into the cities. Meat suppliers are struggling to cope with the huge increase in demand, says the South China Morning Post. People eat twice as much meat and three times as much dairy as they did 30 years ago, official figures suggest.
Use #NewsfromElsewhere to stay up-to-date with our reports via Twitter.