Ukraine: Firefox add-on promotes anti-government boycott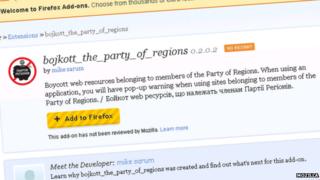 A user of the popular internet browser Mozilla Firefox has developed a feature that promotes a boycott in Ukraine of websites linked to the ruling party.
The add-on functions by opening a pop-up alert every time an internet user visits a website believed to be linked to the ruling Party of Regions, the Ukraynska Pravda newspaper reports. The notice says: "This resource belongs to a member of the Party of the Regions."
Ukraine's opposition accuses websites affiliated with the Party of Regions of spreading government propaganda, and has incorporated the Firefox service into its wider online campaign. "The Party of Regions is a parasite," says the campaign's manifesto. "The main reason why it was set up is to plunder all of Ukraine's resources."
Divisions have only deepened in the media after mass protests began in November 2013, when the government opted for closer relations with Russia rather than the European Union.
Firefox is an open-source program, so anyone can develop add-ons for it. Reviews on the campaign website are asking for a similar tool for the Chrome and Opera browsers.
Use #NewsfromElsewhere to stay up-to-date with our reports via Twitter.