Japan: Tsunami widower searches seabed for missing wife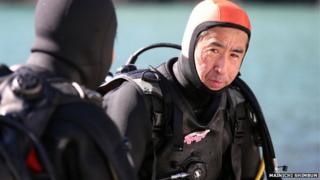 A Japanese man has learnt to scuba dive so he can search the freezing waters of the Pacific Ocean looking for his wife, who has been missing since the catastrophic Japanese tsunami of 2011, it's been reported.
Last week, Yasuo Takamatsu, 57, got the higher-level diving licence he needs for underwater searches and clearing debris. He decided to start training right away instead of waiting for warmer weather after the authorities made three unsuccessful searches in the last year for his wife Yuko's body, the Mainichi Daily News reports.
"I want to start looking for Yuko as soon as I can, tomorrow even," he said. "I'll keep diving as many times as it takes. I'll get better, a little at a time."
Takamatsu says Yuko was at work at a bank when she felt tremors on 11 March. Fearing a tsunami, employees went up to the roof of the 13m (42ft) building - but the wave was reportedly 20m high when it hit the town of Onagawa - one of the worst affected areas.
Four bank workers were confirmed dead and eight others, including Yuko, were declared missing. The town of 11,000 lost around 1,000 people after the catastrophe.
Use #NewsfromElsewhere to stay up-to-date with our reports via Twitter.