New Zealand: Gloomy Valentine's Day for local rose growers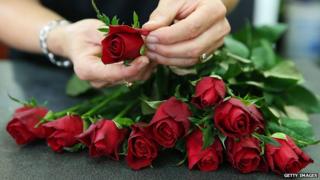 Flower growers in New Zealand are reportedly urging people to check where their roses come from this Valentine's Day, saying cheap imports could risk the country's biosecurity and push local prices down.
As much as half of the 600,000 roses romantic New Zealanders are expected to buy on 14 February will come from India and Colombia, New Zealand's Flower Growers Association says.
New Zealand's strict biosecurity regulations say foreign flowers should be dipped in herbicide for 20 minutes. But this treatment means the flowers don't stay fresh for as long, and more importantly, rogue batches which haven't been treated properly could bring in pests and diseases, says the association's head David Blewden.
"We've had several instances of this and the risks to our industry, and to home gardeners, are huge," he told Chinese news agency Xinhua. He also said local growers are having to compete with lower prices because of mass production overseas, adding the quality isn't has high as with home-grown roses.
But Indian growers are celebrating their increased market share. A harsh winter in Europe and rising demand for cheaper flowers in Australia and New Zealand are driving exports, New Delhi's Financial Express reports. India will ship up to 20 million blooms in time for Valentine's Day this year, the paper said.
Use #NewsfromElsewhere to stay up-to-date with our reports via Twitter.