Iraq: Has al-Qaeda issued a Bin Laden banknote?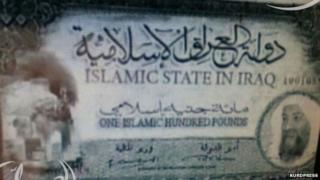 An extremist group operating in Iraq and Syria seems to have made a banknote bearing the image of Osama Bin Laden, in an apparent effort to declare sovereignty over areas in their control.
The note claims to be worth "one Islamic hundred pounds" and says in both English and Arabic it is from the Islamic State in Iraq, the Kurdpress news agency reports. But one expert talking to the Kuwaiti Al-Ra'y website said he was already suspicious about why the currency had been issued in pounds instead of Iraqi dinars, and added he did not think al-Qaeda would print English on its currency.
Meanwhile, Shafaq News in Baghdad points out the extremist group emerging in Iraq's western Anbar province is usually known by a different name - The Islamic State of Iraq and the Levant (ISIS).
The banknotes have not convinced pro-militant groups either. One group says in a Facebook post that the bills are a hoax meant to discredit the ISIS. "Look closely you'll see it's Photoshop," the group said, accusing local Sunni militias of "playing tricks".
We've also noticed the Bin Laden banknote has the same serial number - A001088 - as the Palestinian 100-pound note featured on Wikipedia.
Use #NewsfromElsewhere to stay up-to-date with our reports via Twitter.