Ukraine: Pro-government 'thug' joins protesters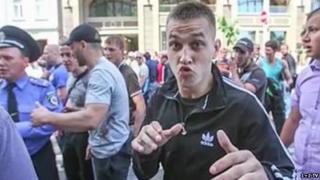 One of the most notorious pro-government vigilantes to have emerged from the unrest in Ukraine appears to have switched sides and joined the protesters.
Vadym Titushko, who was filmed attacking journalists at a demonstration last year, says he made a mistake, the Ukrayinska Pravda news website reported.
Footage of the incident was so widely circulated that the word "Titushko" has become a common by-word for hired demonstrators - people paid by the government to get bussed into the capital and cause trouble at protests. Titushko himself says he was paid 250 hryvnias (£17.50) to attend the event that led to his arrest.
But Titushko says he has had a change of heart - he is "burnt out emotionally" and regrets his poor public image. "If my name started to be used as a label, let's put it differently," he told the 1+1 television channel's "Money" programme. "Titushko is a mindless, unbalanced person. No, this is wrong."
He's been banned from attending the anti-government rallies because of his past bad behaviour, but was seen symbolically chopping wood for the protesters in the Maidan - the main square in Kiev and the demonstrators' main base.
Some opposition figures think it's a positive development: "Next time I may replace the usual 'titushkos' with just 'thugs'," parliamentarian Volodymyr Aryev wrote on his Facebook page.
Use #NewsfromElsewhere to stay up-to-date with our reports via Twitter.