Australia: Daredevil toddlers take up extreme sports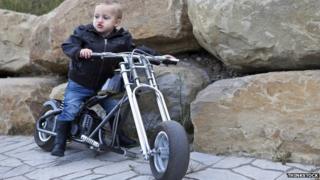 Australian toddlers are taking up extreme sports such as BMX biking, rock climbing and skateboarding, normally reserved for their older siblings, it's been reported.
Parents say the extreme sports are losing their "fear factor" because of wider availability, an emphasis on safety, and mainstream TV and internet coverage, the Sydney Morning Herald reports.
The biking group BMX Australia now has nearly 3,000 members aged between two and eight. Spokesman Andrew Farrell says: "The kids are doing some pretty gnarly things - going more than 50km/h (30mph) down the ramps,'' adding age is no barrier to taking part. Another club in Sydney's Liverpool district has a "mini-wheeler" group for two- to five-year-olds.
Meanwhile, Skateboarding Australia says it's seeing an influx of very young members, drawing in children who dislike competitive team sports. Development manager Brenden Wood says: ''There is so much more emphasis on fun in skateboarding than in traditional sports."
The phenomenon is apparently encouraging adults to take up extreme sports as well. Parents are trying out some sports for the first time after seeing how much fun their daredevil toddlers are having, the paper adds.
Use #NewsfromElsewhere to stay up-to-date with our reports via Twitter.