Belarus: Police appeal for bootlegger tip-offs by post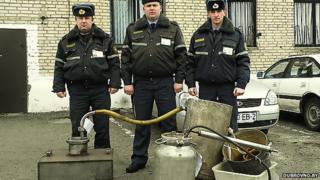 People in Belarus can now drop a letter into any post box - no stamp or envelope needed - if they want to report someone making alcohol illegally, it seems.
Police asked Belposhta, the state-run postal service, to deliver the mail for free, says the Interfax news agency.
Citizens don't have to reveal their names. But they do need to give the bootlegger's address, or provide directions to "the location of the apparatus used to produce illegal alcohol in a forest", say police in Minsk, the Belarusian capital.
Police appealed to residents to report bootleggers more actively, urging people "not to remain indifferent to the tears of women and children" whose husbands and fathers spend all their money on moonshine.
It's not the first time Belarus has tried to stamp out illegal distilleries in unusual ways. Last year, the government said unmanned drone aircraft would track illicit distilleries from the sky. Pictures of officials standing over seized alcohol and equipment appear regularly in Belarusian media. In 2013, about 2,000 people were charged with handling illegal alcohol in Belarus, Interfax reported.
According to a report on the popular tut.by web portal, the government makes about three-quarters of the legal spirits for sale in Belarus. Two of the major distillers are among the top ten taxpayers there. Over 4,000 deaths were attributed directly to alcohol in Belarus in 2011, the website said.
Use #NewsfromElsewhere to stay up-to-date with our reports via Twitter.