China: Siberian tigers train to survive in wild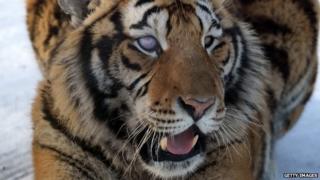 Siberian tigers are being trained to hunt live animals as Chinese breeders prepare to release them into the wild, it's been reported.
Two- and three-year old tiger cubs are undergoing what officials call "wilderness training" at the Heilongjiang Siberian Tiger Garden in north-east China, state news agency Xinhua reports. It's part of an effort to raise numbers of the endangered species living in the wild.
The training in winter snow can be a "solid step" for the animals, who need to survive in the mountains and "multiply by themselves", zoologists say.
Siberian tigers are one of the world's most endangered species. It's estimated there are only 300 left in the wild, of which 20 are in north-east China. The centre at Heilongjiang has seen more than 1,000 births since 1996.
Some 6,000 Siberian tigers are being raised in zoos across China, state television says. The Siberian tiger is a "first-class protected animal" alongside the giant panda.
Use #NewsfromElsewhere to stay up-to-date with our reports via Twitter.