South Korea: Kim Il-sung 'worship' declared illegal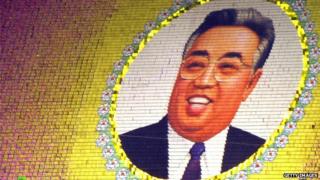 One man's clandestine journey to North Korea has led the South to officially rule it is illegal to "worship" the North's former leader Kim Il-sung, it appears.
Jo Young-nam apparently went to North Korea in 1995. He travelled through Germany, Japan and China to get there, and later claimed political asylum in Germany. He was arrested in 2012 when he returned to South Korea's capital, Seoul.
A lower court had ruled Jo's visit was akin to sightseeing. But South Korea's Supreme Court says Jo was supporting North Korean ideology when he saw Kim Il-sung's embalmed body at an extravagant mausoleum in Pyongyang, leading it to ban the activity for all South Korean citizens.
"His worshipping at the palace, which symbolizes Pyongyang's propaganda, can be interpreted as praising and propagating the North's ideology," the high court ruled. "The way in which he entered the North, his continued support of the enemy and the symbolic meaning of the palace should be taken into consideration."
Kim is still seen as the "eternal president" of North Korea, though he died in 1994. His body lies in state beside his son Kim Jong-il at the Kumsusan Memorial Palace - a place of pilgrimage for North Koreans. Visitors there usually bow reverently and sometimes cry. But under South Korea's strict national security laws, support for the regime in North Korea is forbidden.
Travel to North Korea from the South is banned in all but exceptional circumstances. There is no route between Seoul and Pyongyang except through third countries.
Use #NewsfromElsewhere to stay up-to-date with our reports via Twitter.