Russia: Parents call for ban on ghoulish dolls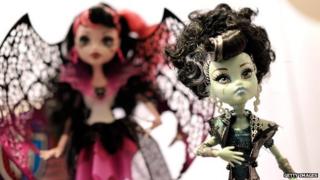 A range of horror dolls has angered a Russian parents' group who claim they promote suicide and could be "a threat to national security", it seems.
The conservative Ural Parents Committee is demanding the Monster High dolls - made by American toy company Mattel - should be banned from sale.
They say they are "obscenely dressed and represent dead people," Saint Petersburg's Channel Five television reports.
The committee also wants to see the spin-off cartoon series banned from Russian television screens.
According to the group's president Yevgeniy Zhabreyev, the ghoulish dolls, which take the form of zombies, vampires and werewolves, could give Russian children ideas about suicide.
"A child starts playing with death, she gets mesmerised with it and she does not notice the line where she becomes unbalanced and wants to sleep in a similar bed," he told Yekaterinburg local TV, adding this could be a matter of national security.
"Children have been acting weirdly," Zhabreyev said in another interview. "One girl aged seven wants to wear a black dress, to change her hair colour and threatened to harm herself if her mother took away the toy."
The group vowed to have the dolls examined by experts to substantiate their claims. But one six-year-old girl interviewed by Channel Five said she wasn't scared of her dolls at all.
The Urals Parents Committee has previously spoken out against other aspects of western culture, calling on President Vladimir Putin to prevent Elton John playing a concert in Yekaterinburg due to his views on homosexuality.
Use #NewsfromElsewhere to stay up-to-date with our reports via Twitter.