Costa Rica: 'Fake' crowd at election rally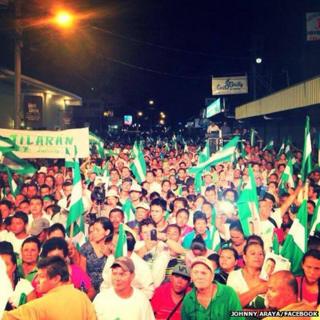 A candidate in Costa Rica's presidential election has denied manipulating photos of an election rally, but couldn't prevent his rivals from creating a slew of spoof images, it appears.
The picture was posted on the Facebook page of Johnny Araya, one of the leading candidates in Costa Rica's general election which will be held this Sunday.
Its unusual appearance prompted a range of questions from dubious voters who asked: "Why is it so pixelated? Why are some faces blurry?" the Tico Times reported.
Araya's team eventually re-posted the image with the contrast and saturation tuned down, but the move was not enough for some critics who claimed: "They used Photoshop again!"
The controversy led supporters of rival candidates to post their own fake photos, poking fun at Araya. One showed Pope Francis waving from the crowd.
Another included the Beatles, Santa's Little Helper from The Simpsons and George Clooney among Araya's supporters.
The Tico Times has published an entire gallery of manipulated images which include Hollywood stars, musicians and famous athletes.
Use #NewsfromElsewhere to stay up-to-date with our reports via Twitter.