China: 'Lucky' red envelopes go digital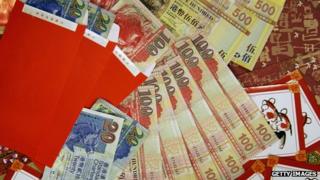 Chinese people would rather receive bank transfers than traditional red envelopes filled with cash, it's reported.
More than half of those questioned in a poll would rather money was wired to their accounts than be handed a "lucky" red envelope, Hong Kong's South China Morning Post reports.
The envelopes - known as "lai see" in Cantonese, and "hongbao" in Mandarin - are usually given during holidays such as Lunar New Year, and at important family gatherings.
The findings come as messaging service WeChat launches a new smartphone app allowing users to swap virtual red envelopes on their phones. Users can now allocate up to 200 yuan (£20) in virtual red envelopes, and have the option to disperse the money at random in the form of a game, Xinhua says.
WeChat rolled out a payment service to its users in June last year, and hope the game will help popularise online payments, according to the Global Voices blog. Virtual red envelopes aren't unique to WeChat, however, with similar services available to Sina Weibo and Alipay users as well.
Use #NewsfromElsewhere to stay up-to-date with our reports via Twitter.