Kenya: Boy lifted out of poverty by e-waste jewellery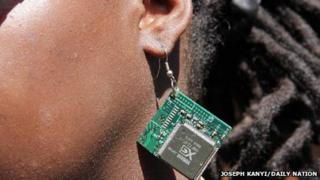 A boy from Kenya has transformed his life by designing and selling jewellery made from discarded computers, it appears.
David Nderitu used to be homeless, but today he turns a healthy profit by crafting earrings from computer circuit boards, according to Kenya's Daily Nation. The sixteen-year-old told the paper he was inspired by motivational speakers who visited the children's home that had taken him in.
He makes the jewellery from old phones and computer motherboards that would otherwise go to landfill - "poisoning" the soil - he said.
Now at school, and having obtained an official welding qualification, Nderitu is able to create around 60 pieces every two weeks. They sell for up to 300 shillings (£2.10) locally, or more than three times that abroad. Sponsors from America's Penn State University now buy his work in bulk, the Daily Nation reports.
The average annual wage in Kenya is reportedly around £1,080. By contrast, its MPs are some of the highest paid in the world - a recent vote to raise their salaries to around £72,000 caused outrage, and was eventually overturned.
Use #NewsfromElsewhere to stay up-to-date with our reports via Twitter.