Russia: Anger over Olympic city's roaming cattle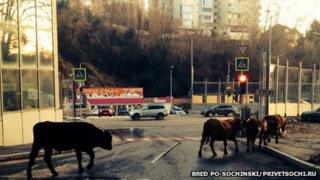 Cows wandering the streets in the Russian Olympic city of Sochi have prompted an angry outburst from a local blogger.
With the Winter Olympics little more than a week away, a blog called Bred po-sochinski ("Sochi Ramblings") features a number of photos of cattle in the city's streets, and an impassioned plea for local farmers to keep their animals under control.
The post on the Privet Sochi ("Hello Sochi") portal calls on owners to keep their cattle out of sight as the world descends on the city.
"Dear livestock owners, please keep your cattle in the yard," he wrote. "If you have no idea about how to live in a city and want to turn the Olympic capital into a village, you are mistaken as you won't get away with it."
Sochi Ramblings posted images of cattle loitering near apartment blocks and walking in the road near some traffic lights, saying that loose animals were "a danger to both drivers and passengers". As well as its status as host city for the 2014 Winter Olympics, Sochi - on the Black Sea coast - is also known as Russia's largest resort.
Use #NewsfromElsewhere to stay up-to-date with our reports via Twitter.