New Zealand: German tourists unimpressed by bungee offer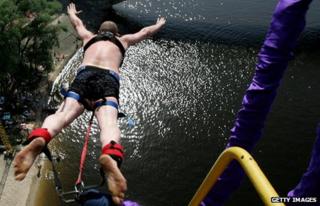 Two German travellers have been offered free bungee jumps as compensation after their car was crushed by a tree in New Zealand, it's reported.
The men say they were given 70 New Zealand dollars (£35), free towing, and a bungee jump each after it emerged that their third party insurance wouldn't cover the cost of repairs. Their legally parked car was written off by a falling tree at St Omer park on New Zealand's South Island, the Otago Daily Press reports.
Paul Zeller said "arrogant" council representatives denied responsibility for the incident, despite the fact the tree was growing in a council park. ''You just feel angry, but you don't know who you can be angry at,'' Zeller said. He claimed the 1994 Toyota was worth 1,400 New Zealand dollars (£700) and "still had petrol in it".
Tree surgeons said the 120-year-old tree - which damaged six other cars and a motel in the fall - was suffering from white rot. Zeller and his companion Nico Reiner said they planned to use their bungee passes before leaving the country.
Use #NewsfromElsewhere to stay up-to-date with our reports via Twitter.