Ukraine: Russian weatherman says protesters risk cancer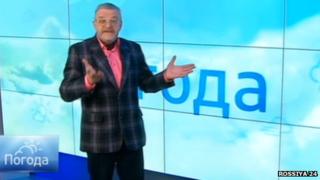 Colourful Russian TV weatherman Vadim Zavodchenkov has told protesters in Ukraine that they risk cancer from inhaling burning tyre smoke, it seems.
Zavodchenkov made the claims on state television channel Rossiya 24, which is widely seen as a mouthpiece for the Russian government.
People warming themselves by burning car tyres should realise they contain carcinogens, and are classified as "grade-four dangerous goods", he said.
The weatherman first hit the headlines in early December when he said wintry weather was to blame for "aggression and illegal acts" at the anti-government demonstrations in Kiev.
Mr Zavodchenkov appealed to the "radicals" - as the Russian official media call the protesters - to stop releasing this "deadly cocktail of smoke" into the atmosphere and go home.
Despite the advice, and temperatures approaching -16°C, the protests have continued in Kiev and are spreading to other Ukrainian cities.
Use #NewsfromElsewhere to stay up-to-date with our reports via Twitter.