Brazil: Scientist says Rio's urban growth could be causing more lightning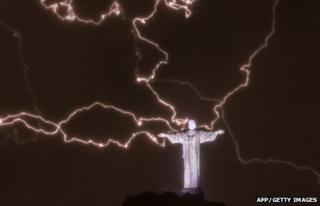 A scientist at Brazil's aerospace institute thinks Rio's urban growth has caused more lightning strikes in the city, it seems.
Osmar Pinto Jr told O Globo newspaper that urban growth - and Rio de Janeiro in particular - has led to a noticeable increase in electrical storms. "As the city becomes more urbanised, it creates an island of greater heat, because plants are replaced by asphalt and houses", he said. The storms form as cold fronts collide with the steamy climate of the city, O Globo reports.
Dr Pinto Jr, who heads the atmospheric electricity group at Brazil's National Institute for Space Research, said greater pollution from cars also leads to more lightning strikes.
Chris Stone, of Cardiff's Morgan-Botti Lightning Laboratory, thinks the theory is plausible, but points out that interactions between land and atmosphere are complex. "There may be several processes at work to influence the weather over a large city - the urban heat island effect and pollution are just a few," he says.
This iconic statue of Christ the Redeemer in Rio has been struck twice in the last eight days. It is struck 3-5 times a year on average and the Rio Archdiocese of the Catholic Church - which is responsible for the statue - says the same finger has been damaged before. The cost of the repairs is reported to fall within the £500,000 (1.8m real) maintenance budget.
Use #NewsfromElsewhere to stay up-to-date with our reports via Twitter.