Chechnya: President wrestles ministers in the snow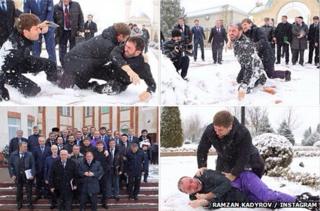 Ramzan Kadyrov, the hands-on president of Russia's Chechnya region, marked the first major snowfall in the capital Grozny by wrestling his ministers to the ground, it appears.
The former warlord, who became Chechnya's leader nearly seven years ago, promotes himself widely on social media - and posted photos of the wintry wrestling bout on Instagram. "Salaam aleikum, friends!" he wrote. "After a serious conference from which not all of us emerged cheerfully, I decided to give the ministers a bit of a boost... Greetings to all on the first real snow!"
The post garnered nearly 9,300 likes and more than twenty comments in Russian, Chechen and Arabic, almost all in praise of Mr Kadyrov - "he remembers his childhood, prays, and is cooler than all the other governors", as one fan put it. Hostile comments were deleted, but their gist - that Mr Kadyrov is squandering his Russian subsidies - can be grasped from the angry responses which remain online.
The post came days after Kadyrov posted unverified reports on Instagram that a Chechen militant - who urged his followers to attack the Sochi winter Olympics - had been killed.
Islamist militants from Chechnya, and nearby republics of Dagestan and Ingushetia, are being targeted by Russian special forces in the build up to the Games, which begin on 7 February.
Use #NewsfromElsewhere to stay up-to-date with our reports via Twitter.