Sweden: Used car advert helps unemployed man land his dream job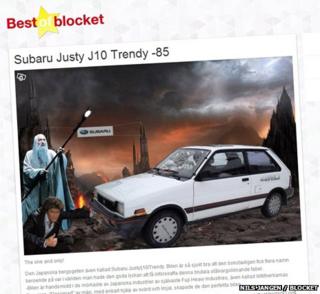 An off-the-wall advert designed to sell an old car helped an unemployed Swede land his dream job, it's reported.
Nils Jangen, 28, was forced to sell his 1985 Subaru online - but did so with such panache that a high profile motoring magazine offered him a job, according to The Local news website.
After moving to a new town to live with his girlfriend, Jangen sent out around 200 CVs to prospective employers, but had only been called to one interview. "I was getting pretty desperate," he told the site. With his savings running dry and no job in sight, he had no choice but to sell his old car.
"It wasn't going to sell itself, it's really an old beater," he said, "I included a bit of humour thinking it might help get my car sold."
The advert on Blocket - a Swedish classified ads website - was decidedly unusual. It featured Lord of the Rings wizard Saruman and actor David Hasselhoff, and described the car as being "hand-forged in the darkest of Japanese industries" by "the Saruman of carmakers".
The asking price was 10,000 kronor (around £950), but also said he was willing to trade the car for a job - as his prospects were "on a par with those of North Korea".
A day after posting the ad he was inundated with job offers, and eventually chose to work at Auto, Motor & Sport magazine. "I've always dreamed of being an automotive journalist. I've probably watched too much Top Gear in my time, so I said yes right away," Jangen told The Local.
Use #NewsfromElsewhere to stay up-to-date with our reports via Twitter.