Chile: 'Anti-Israeli' football kit row
News from Elsewhere...
...a media feature by BBC Monitoring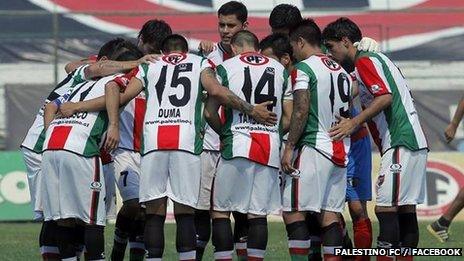 The new kit at a Chilean football club has been accused of being "anti-Israeli" because of the unusual numbers that appear on the back of the shirts, it seems.
The number "1" on the Santiago-based Palestino FC shirts is shaped to look like Israel and the Palestinian Territories - as a single entity - and the design has caused consternation among Chile's Jewish community.
"How would Chileans feel if the Argentine football shirt displayed Chile as part of Argentina?" Samy Telias of Chilean pro-Israeli publication Revista Shalom said.
Gabriel Zaliasnik - the former Chilean Jewish Community president - told the Times it was "a lousy form of political violence in Chilean football - chauvinistic and in bad taste."
The Israeli government has entered the fray, too, expressing "surprise and concern" over the new kit, and saying it amounted to "provocation... with the evident intention of denying Israel's existence", according to La Nacion newspaper.
But Palestino FC remains defiant. "For us, free Palestine will always be historical Palestine, nothing less," the club says in a statement on its Facebook page. Chile's Palestinian Federation has spoken out in support of the decision, too, saying the map has existed as a symbol in Chile since 1920.
Chile is believed to be home to the largest Palestinian community outside the Arab world, and the football club was set up by Palestinian migrants to the country.
Use #NewsfromElsewhere to stay up-to-date with our reports via Twitter.