Altered Images: The Egyptian movie star and the hardline cleric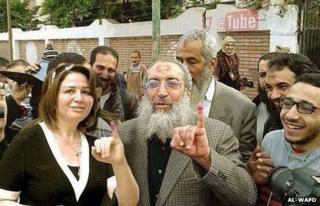 A doctored image circulating in Egypt appears to show a hardline Muslim cleric going to the polls with a liberal movie star, it's reported.
Yasir al-Birhami is a preacher connected with the ultra-conservative Salafist movement, and the actress is Ilham Shahin - famous across the Arab world.
The original photograph was taken outside a polling station in Alexandria where Al-Birhami had just voted in the referendum on Egypt's new constitution. As is the custom, he shows an outstretched finger, marked with election ink.
A short while later, however, a different version of the picture cropped up on social networks, according to Egyptian newspaper Al-Wafd. In place of a man who appears to be a bodyguard, Shahin is shown standing shoulder to shoulder with the cleric.
The image is intended to discredit Al-Birhami. Being pictured next to a woman whose head is uncovered, and is not his wife, could be extremely damaging in the eyes of the country's Salafists.
Al-Birhami was quick to deny the authenticity of the picture, however, and it became clear that the details did not add up. While he was known to have voted in Alexandria, Shahin is registered as a voter in Cairo, more than a hundred miles away.
Although no-one has claimed responsibility for photoshopping the image, the preacher has publicly blamed the Muslim Brotherhood, a rival Islamist movement which stands opposed to the new constitution.
Use #NewsfromElsewhere to stay up-to-date with our reports via Twitter.