Altered Images: The case of the minister's missing jet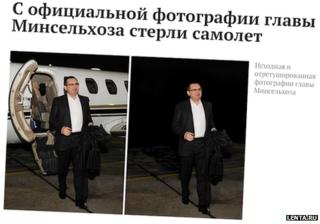 Russian news websites are asking why an executive jet appears to have been airbrushed from a picture of a government minister.
The photo - posted on the agriculture ministry's official website - shows Nikolai Fedorov arriving in Germany to take part in trade talks.
Both the Lenta news website and the Novaya Gazeta newspaper note that the official photo has managed to lose the aircraft in the background. Instead, the minister is seen walking across the dark, empty tarmac.
Further investigation by Lenta found an original version of the photo on the ministry's website, along with another showing the plane's partially-obscured registration index - suggesting it is a Cessna jet registered in Serbia.
Under the headline "Fly? Then fly if you must!", Novaya Gazeta said the photo first appeared on the ministry's website on 30 November, and suggests it was retouched to avoid accusations of extravagance.
The paper said it would raise the issue with the agriculture ministry once Russia's New Year holiday is over.
Readers of the Novaya Gazeta story recall an infamous story about the Russian Orthodox Church leader, too. "What would Patriarch Kirill make of this?" it asks. In 2012 he was photographed with an expensive watch airbrushed from his wrist, but its reflection was still clearly visible on a well-polished table.
Use #NewsfromElsewhere to stay up-to-date with our reports via Twitter.