Israel: Website mocks John Kerry with 'porcu-shine' video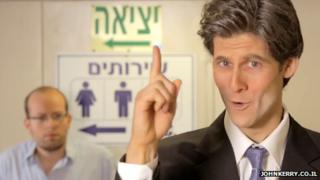 Right-wing groups in Israel have set up a website portraying US Secretary of State John Kerry as an unwanted salesman, peddling inappropriate solutions to people's problems, it seems.
The parody site shows a lookalike promoting John Kerry Solutions Ltd and coming up with half-baked solutions which end in disaster, The Times of Israel reports.
A video shows a Hebrew-speaking "Kerry" suggesting a man stuck on the toilet without paper uses a porcupine instead. "Wipe, don't gripe," Kerry tells him. After the "porcu-shine" incident, the advice goes from bad to worse, and the man ends up unemployed and begging in the street.
The Jerusalem Post says the site - which dismisses American efforts to create a "two-state" solution to the Israel-Palestinian conflict - is the work of several groups, including the Council of Jewish Communities of Judea and Samaria, MyIsrael and the Binyamin Regional Council.
Israeli Foreign Minister Avigdor Lieberman has welcomed Washington's push towards a two-state solution, but Yigal Delmonti, of one of the groups behind the website, told The Jerusalem Post: "Our deep friendship with the US does not obligate us to cave under pressure and to accept solutions that would endanger the state of Israel."
Use #NewsfromElsewhere to stay up-to-date with our reports viaTwitter.