Russia: Santa to "drop in" on Space Station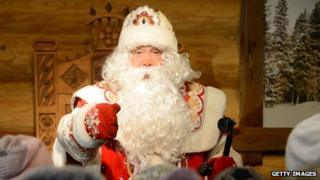 Grandfather Frost, the Russian version of Father Christmas, will be linking up with astronauts on board the International Space Station, it is reported.
"Grandfather Frost of All the Russians" is going to visit the mission control centre in Korolev outside Moscow on Sunday, 29 December, to pass on New Year and Orthodox Christmas greetings, RIA-Novosti state news agency reports.
On 7 January, when Orthodox believers mark Christmas, the astronauts on board the space station are also expected to hear from Patriarch Kirill, the head of the Russian Orthodox Church.
This isn't the first time Grandfather Frost will be "visiting" the mission control centre. He has been making live speeches to astronauts since 2005, and he is also known to have turned up at Korolev with his granddaughter Snegurochka, the Snow Maiden, on previous occasions, RIA says.
Use #NewsfromElsewhere to stay up-to-date with our reports via Twitter.