Kazakhstan: Christmas tree-top trouble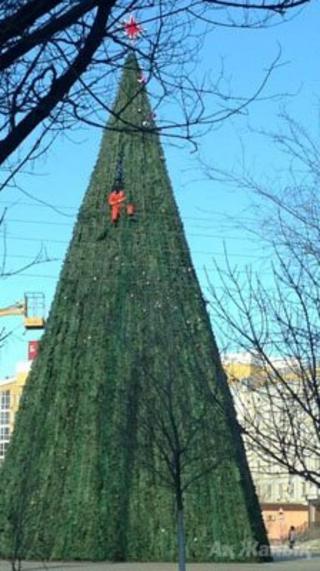 It's reported in Kazakhstan that a man has been jailed for scaling a Christmas tree in protest at what he said were overdue wages. He said they were owed to him by the company which erects the trees.
The 19-year-old told police in the western oil town of Atyrau that he was owed two months' worth of wages. The company in question denied this, saying it only started operating on 29 November, local weekly Ak Zhayik reports.
Shortly afterwards, the man was convicted of committing "a petty act of hooliganism" and sentenced to three days in jail.
Even though Kazakhstan is a predominantly Muslim country, many towns and cities are decorated with Christmas trees, known as "New Year's trees".
This tradition was encouraged across the former Soviet Union after the Bolshevik Revolution of 1917, as a way of wooing people away from celebrating Christmas in the officially atheist USSR.
But in another Central Asian republic, Tajikistan, the use of Christmas trees has been discouraged recently because they allegedly do not reflect national culture.
Use #NewsfromElsewhere to stay up-to-date with our reports via Twitter.