Altered Images: German TV in sexism row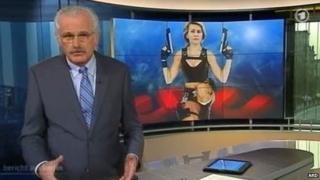 A montage showing new German defence minister Ursula von der Leyen as a Lara Croft-type character has sparked accusations of sexism against the public-service ARD channel.
The row erupted when the broadcaster posted the image on Twitter on 15 December as part of an advent calendar series. It was tweeted by the TV's weekly Report from Berlin programme the day von der Leyen was nominated as defence minister, and it carried a #defenceministry hashtag.
"Really, now: have you gone mad?... #sexism" journalist Karin Christmann said in reply. A widely shared tweet by the weekly Die Zeit's social media editor Juliane Leopold uses the hashtag #aufschrei - #outcry - to denounce the image.
News websites and newspapers were quick to join the fray, sometimes under questionable headlines. "ARD makes fool of itself with half-naked von der Leyen," reads a Focus Online headline. "If the ARD wanted a storm of criticism, this picture is a sure way to do it," the news website says.
The T-Online web portal's headline also wrongly suggests that the image shows a "half-naked von der Leyen". Its byline condemns the image's "embarrassing sexism".
Several newspapers place the picture in the context of other reactions to von der Leyen's appointment. "The discussion on Twitter shows the kind of reactionary mustiness of which our society is still capable in the year 2013," says Die Tageszeitung. And Die Zeit deplores the fact that the nomination inspired "even journalists to use misguided images".
The ARD was quick to respond by "briefly" removing the image from Twitter and Facebook "because it is not associated with the current nomination of Ursula von der Leyen as defence minister", as the channel later explained on Facebook.
But it is unrepentant about the continued use of the image "as a retrospective on the actual programme content in April this year", when the montage was first shown. At the time, it was intended to illustrate the then labour minister's "assertiveness" in a row over women quotas, the channel says.
Use #NewsfromElsewhere to stay up-to-date with our reports via Twitter.