Syria: Saudi prince's anger over royal biopic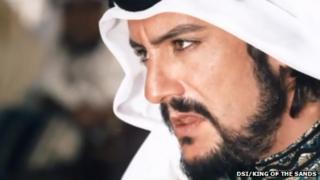 A Syrian film about the founder of modern Saudi Arabia has been shown in Damascus, despite attempts from a Saudi prince to have it banned, it appears.
The film, King of the Sands, was screened in the Syrian capital last Friday after being denounced by Prince Talal Bin-Abd-al-Aziz for "distorting a great historical figure", the Arabian Business website reports. It tells the story of the rise of late King Abd-al-Aziz Al Saud, also known as Ibn Saud, and the foundation of the Saudi kingdom in early 20th Century. The film, directed by Syrian Najdat Anzour, had its first showing in London last September, and is one of the first feature films to tackle the character of Ibn Saud, played by Italian actor Fabio Testi.
The feature is controversial in Saudi eyes because of the way it portrays Ibn Saud as "an unscrupulous, bloodthirsty womaniser who was a pawn of the British", Iranian Press TV reported earlier this year. The film's trailer shows a young Ibn Saud as a zealous leader, converting British intelligence officer John Philby to Islam "in name, without practise". In another scene, the trailer shows Ibn Saud in the bedroom with a young wife.
The director says the film is a useful piece of "history revision" that draws on what happened 100 years ago to comment on the "current chaos" in the Arab world. Lebanese pro-Hezbollah newspaper Al-Akhbar noted that the film had already been shown in Beirut, and Saudi objections are probably the result of Riyadh's support for the anti-Assad rebellion in Syria.
Prince Talal Bin-Abd-al-Aziz lambasted the feature on his Twitter account, saying: "This film will end up in the garbage bin of failed art works". The Saudi prince, who is one of Ibn Saud's 18 sons, added that he had sought the mediation of a "friend in common" with Syrian President Bashar al-Assad to "ban showing the film" in the country. However, his mission appears to have failed, with Syrian TV showing a large audience applauding a screening at the opera house in Damascus.
Use #NewsfromElsewhere to stay up-to-date with our reports via Twitter.