Azerbaijan: Flash mob forms president's signature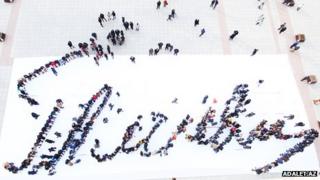 A flash mob has been held in Azerbaijan to imitate the late president's signature, it's reported.
About 300 people met on what looked like a huge sheet of white paper, standing in formation to recreate the signature of former President Heydar Aliyev. The event - held in Heydar Aliyev square in the western town of Ganca - was organised by the local authorities and a pro-government youth group called Land of Fire. It was timed to coincide with the 10th anniversary of his death, pro-government Azad Azarbaycan TV reports. The flash mob formed the world's second-largest signature, and there are plans to hold another, even bigger event to make the largest.
Heydar Aliyev ruled Azerbaijan from 1993 to 2003, and since his death the country has been run by his son, Ilham. Critics accuse Aliyev the younger of heading an authoritarian regime with a personality cult around his father. Facilities named after Heydar Aliyev in the capital Baku include the country's main international airport, one of the key thoroughfares, a major concert hall and an arts centre.
Use #NewsfromElsewhere to stay up-to-date with our reports via Twitter.