Italy: Mafia prosecutor turns down armoured car offer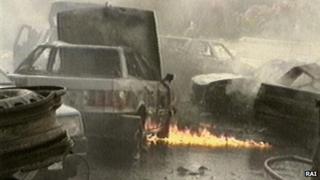 A high-profile magistrate under threat from the mafia has turned down the offer of an armoured car, while his bodyguards have been issued with bomb-jamming technology that blocks electronic signals, it's been reported.
Nino Di Matteo, a chief prosecuting magistrate in a trial taking place in the Sicilian capital Palermo, has turned down the car because he doesn't want to be seen driving around the city in an army vehicle. "No way. I can't go round residential areas of Palermo in an armoured car. Please don't ask me to," he told the Corriere della Sera newspaper. The vehicle in question is the Lince (Lynx) tactical vehicle manufactured by Italian company Iveco. An adapted version, known as the Panther, is used by the British armed forces.
Meanwhile, Di Matteo's bodyguards have reportedly taken delivery of mobile bomb-jamming equipment which prevents attackers remotely detonating explosive devices, says La Repubblica news website. Authorities are taking the issue seriously after covert recordings of Salvatore "Toto" Riina, the jailed "boss of bosses", revealed death threats against Di Matteo while discussing the trial with fellow inmates. The trial is probing claims that mafia bosses and high-ranking Italian officials reached a secret deal to stop a wave of deadly bombings in the early 1990s. Interior Minister Angelino Alfano has promised to use all means "to protect those who protect us from the mafia". One prosecutor is quoted as saying that a successful attack "could set Italy's clock back 20 years".
Use #NewsfromElsewhere to stay up-to-date with our reports via Twitter.