Tajikistan: No 'Father Christmas' for TV viewers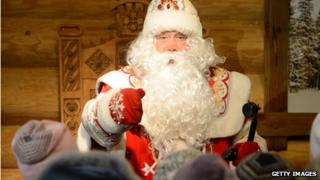 Grandfather Frost won't be appearing on TV screens in Tajikistan this year after the state broadcaster decided he doesn't reflect national culture, it's been reported.
The Russian version of Father Christmas joins his granddaughter Snegurochka the Snow Maiden and decorated New Year's fir trees on the list of items that have been dropped by the Tajik State Committee for Television and Radio for its New Year holiday programming this year, Dushanbe-based Asia-Plus news agency reports. The decision is purely cultural and was not ordered by the government, the state broadcaster's Saidali Siddikov says. "These items and characters of fairy tales have no direct connection to our national traditions," he remarked, stressing that "there is nothing wrong with them". Siddikov says that state television would still show its regular New Year holiday programming, complete with snow, parties, music, songs and dancing.
The Moscow Times notes that these New Year traditions are a legacy of Tajikistan's history as a former Soviet republic. The population is predominantly Muslim, and the erection of trees and celebration of Father Frost, despite forming part of many Tajiks' annual celebrations, has been criticised by religious leaders in recent years. Nonetheless, a 70ft (22m) tall New Year's fir tree paid for by the mayor's office is an annual fixture in Dushanbe's main square, Asia-Plus says.
Use #NewsfromElsewhere to stay up-to-date with our reports via Twitter.