Singapore: Fish restaurant apologises for riot advert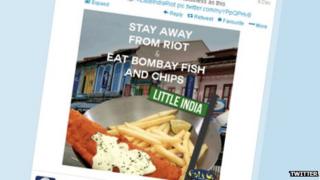 A seafood restaurant in Singapore has apologised for a Facebook advert that used a riot to promote its food, it's reported.
The riot - an unusual event in strictly-governed Singapore - took place in Little India and appears to have been sparked by an accident in which an Indian national lost his life. The advert posted by Fish & Co used the catchline "Stay away from riot & eat Bombay fish and chips" above a picture of the dish and a Little India street sign.
It drew angry comments from Facebook and Twitter users. One wrote: "I only thought clueless marketing people in the US would use tragedies like 9/11 or Hurricane Katrina or Sandy Hook to make a sale. Not here. I'll never patronize your businesses again." Another said: "Seriously, whoever came up with that post is insensitive over what has happened. It's not funny at all." The company has since apologised, saying it had not intended to trivialise the situation.
It's not the only business to fall foul of the minefield that is social media advertising. Last week Richard Branson's Virgin Active Australia brand was heavily criticised for a Facebook post that said Nelson Mandela had been "pivotal" in its expansion into South Africa, and US brand Spaghettios apologised for a tweet commemorating the Pearl Harbor attacks with a picture of its smiling mascot. Many found it too jaunty for an event in which 2,400 Americans died.
Use #NewsfromElsewhere to stay up-to-date with our reports via Twitter.