Russia: Church man's taboo term for unwed mothers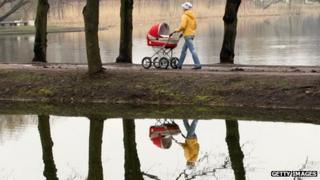 A Russian church official seems to suggest an offensive term should be used for single mothers after a rise in the number of children born out of wedlock.
The head of the Russian Orthodox Church's missionary department in the Siberian city of Tomsk reportedly suggests "depurging" a taboo word that roughly translates as "whore". Russian news website Gazeta says Maksim Stepanenko made the comments on a local website in response to official figures showing 28% of the region's 14,401 births last year were out of wedlock. This "outstanding old Russian word" ought to be used for single mothers, he suggested, as it was not considered offensive in the past and therefore "cannot be obscene, disgusting and unacceptable". Russian news sources do not share his opinion, referring to it only as "the word which begins with B".
In a lengthy - but subsequently deleted - post on the Christian missionary website, Stepanenko warned that these fatherless children will grow up like those in "modern Europe" - "a future without Christ, and a future with fornication and homosexuality". He added they were "more likely to become criminals and sociopaths", Ekho Moskvy radio says. The perceived horrors of life in Western Europe are a theme in some sections of the Russian media, with one report on state-owned television claiming a Swedish toilet-training TV programme sums up European immorality.
Use #NewsfromElsewhere to stay up-to-date with our reports via Twitter.