Brazil: Border soldiers 'living in the Stone Age'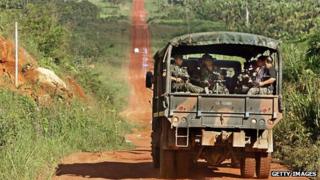 Troops defending Brazil's remote Amazon borders lack reliable electricity, running water, phones and regular supply drops, it's claimed.
The Special Frontier Platoons, which operate posts on frontiers with Bolivia, Peru, Colombia, Venezuela and Guyana, drink rainwater and use local rivers for bathing and washing clothes, the Globo G1 news portal reports. The troops are tasked to guard against drug trafficking, foreign incursions, and illegal logging and mining. But they hunt and fish for food to supplement the irregular arrival of supply aircraft. Gen Guilherme Theophilo de Oliveira tells G1: "Much of the Amazon region still lives as if it were in the Stone Age because the government is not present. Anyone visiting these units comes back with a sense of outrage."
Amazon region commander General Eduardo Villas Boas is well aware of the logistical difficulties Brazil faces defending its 10,500 miles of land borders with 10 countries. "There are no highways and the waterway system is not equipped for us to use." Rivers are not navigable for much of the year, he says, adding that new helicopters and ferries will help in 2014.
Soldier Valdecir Curico de Souza says the biggest enemies are the insects and lack of new equipment. "The mattress I sleep on came here more than 20 years ago and is full of holes."
Use #NewsfromElsewhere to stay up-to-date with our reports via Twitter.