Altered Images: Why some media in Iran doctor photos of women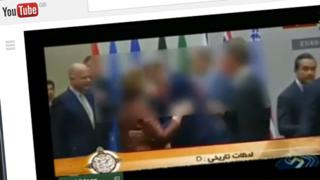 Blurred-out embraces in footage of the EU's Catherine Ashton highlight once again how some media in Iran censor images of women deemed to be inappropriate.
The recent deal between Iran and the Western powers over its nuclear activities once again threw the European Union's foreign policy chief Baroness Ashton into the spotlight, resulting in uncomfortable footage for television producers in Tehran.
Video from Iran's state-run television uploaded to YouTube shows Ashton at a press conference in Geneva announcing the nuclear deal, accompanied by the foreign ministers of Iran, the US, UK, Russia, China, France and Germany. When she moves to kiss French Foreign Minister Laurent Fabius and hug Germany's Guido Westerwelle, the entire scene is blurred out. It is only after she has shaken hands with Iranian minister Mohammad Javad Zarif that the blurring ends, Iran's privately-owned Fars news agency says.
It's not the first time Ashton has been censored in the Islamic Republic. In 2011, conservative newspaper Hamshahri retouched a photograph of her standing next to nuclear negotiator Saeed Jalili, a relatively low-cut top altered to cover her up all the way to the neck.
Iranian experts at BBC Monitoring say Ashton is one of the very few female politicians to have regular meetings with senior Tehran officials, and her appearance in state media is largely unavoidable in a major news story that reflects on Iranian national pride. Blurring video of her embracing male diplomats is likely less of an attack on her, and more of a means to maintain modesty.
Doctored images appear in the country's media on a regular basis, reportedly due to restrictions in place against publishing photos of women believed to be "scantily" clad.
There are no concrete regulations, and the editorial choices are often arbitrary, leading to censorship of western celebrities, sport and art. In February, for example, Tehran's Fars news agency added sleeves and a higher neckline to American First Lady Michelle Obama's dress in press shots of her announcing the winner of the best film category at the Academy Awards.
Sports broadcasting presents a particular quandary for Iranian broadcasters. Earlier this year, there was controversy when uncensored shots appeared on Iran's Channel Three of pop singer Shakira in the stands of a football match, cheering on her husband Gerard Pique. There was also heated debate about coverage of the country's successful female volleyball team over "un-Islamic" clothes worn by women in the crowd of a tournament in Sardinia.
Use #NewsfromElsewhere to stay up-to-date with our reports via Twitter.