Canada: Mountie fights for right to smoke cannabis in uniform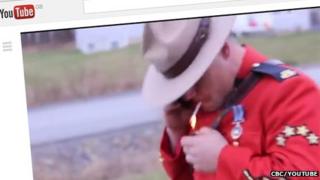 A Royal Canadian Mounted Police officer has been told he can't smoke marijuana while in uniform, it's reported.
Cpl Ronald Francis, an officer with more than 20 years' service in the eastern province of New Brunswick, has a medical prescription that allows him to take up to 3g of the drug daily to treat symptoms of post-traumatic stress disorder, Canadian broadcaster CBC reports. While senior officers have said that his marijuana use is fine under Canadian medical and human rights laws, they have drawn the line over smoking in public while wearing the RCMP's famous red serge uniform. Assistant commissioner Gilles Moreau told CBC that "it would not portray the right message to the general public, it's definitely not something we would support or condone."
Francis has drawn the ire of his superiors by telling CBC in a televised interview: "There's no policy in the RCMP that prevents me from smoking marijuana... I have the right to smoke it in my red serge." Officials thought otherwise, with officers arriving at his home last week to seize his uniform, Toronto's Globe and Mail reports.
With the case hitting national headlines, RCMP commissioner Bob Paulson has told a House of Commons committee that he was "disappointed" by Cpl Francis, who is now on medical leave. "It was all very embarrassing, I think for not just the force, but for Canadians," Paulson says. The issue has seemingly split Canadian opinion, with a straw poll on the CBC website showing 54% thinking that smoking pot in uniform puts across a poor public image and 46% who see no problem if the drug is used legally.
Use #NewsfromElsewhere to stay up-to-date with our reports via Twitter.