Vatican: Not the Spanish Inquisition, again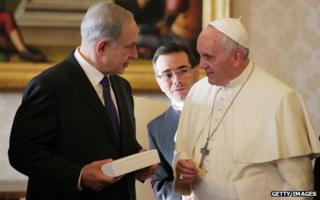 On a visit to the Vatican, Israeli Prime Minister Benjamin Netanyahu has given Pope Francis a book by his historian father about the Spanish Inquisition.
The prime minister was in Rome on Monday for a summit meeting with Italian leaders when he paid the courtesy visit to the Pope, who presented him with a carved panel depicting Saint Paul, an early Jewish convert to Christianity, the Israeli newspaper Haaretz reports.
Netanyahu's father Benzion died last year at the age of 102, having spent much of his academic career in the United States. He specialised in early modern Jewish history. The copy of his book The Origins of the Inquisition in Fifteenth-Century Spain that the prime minister gave to the Argentine-born Pope was translated into Spanish and inscribed: "To His Holiness Pope Francis, great guardian of our common heritage." Netanyahu also presented the Pope with a menorah, the traditional Jewish eight-branched candle holder.
Use #NewsfromElsewhere to stay up-to-date with our reports via Twitter.