Malaysia: Anger as developers dig up temple ruins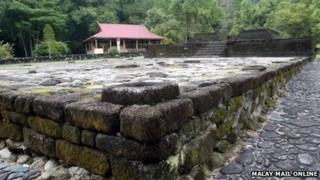 Reports that developers have dug up ancient Hindu temple ruins in Malaysia have prompted public anger.
Bujang Valley (Lembah Bujang) is the richest archaeological site in the country. It covers hundreds of square miles in the state of Kedah and houses temple remains dating back about 2,000 years. The deputy chief minister of neighbouring Penang State, Palinasamy Ramasamy, visited the site over the weekend and told the Malay Mail Online site that temple 11 at Sungai Batu "was demolished by the developer... more than a month back".
Social media users were furious, with responses ranging from disbelief that the site was not protected to accusations of an attempt by the state to erase Malaysia's pre-Islamic history. "No respect at all. Oh wait, if there's no association with Islam it doesn't matter. Not sensitive," tweeted @iAppleMustache, for example. A Facebook page "1 Million Likes To Save Bujang Valley" got more than 7,000 responses on its first day.
Kedah State authorities, taken aback by the reaction, said the site was on private land and had not been registered as historically significant. This profession of ignorance prompted further public scorn and a pledge from the state government to work with archaeologists to record the remaining ruins in the area.
Use #NewsfromElsewhere to stay up-to-date with our reports via Twitter.